Mitragynine is the active chemical found inside Mitragyna speciosa. It's an indole-based opioid-receptor agonist and, a dopamine agonist.
Warning: users quitting consistent use do experience kratom withdrawal symptoms.
Mitragynine is an alkaloid that binds to similar chemical binding sites to drugs such as opium. It's easy to get addicted so be careful. Traditionally the leaves of the plant are chewed fresh. The dry leaves are ground and taken as a powder. It can also be taken as a tea, mixed with juice, and added to food in want of a bitter taste.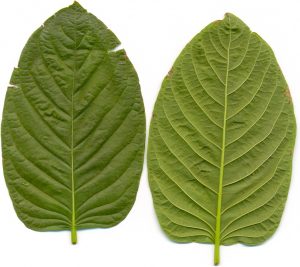 How to use Kratom
Kratom leaves can be chewed raw, dried and used for tea, or mixed into food as a powder. It is unsuitable for smoking.
Kratom Withdrawal:
Kratom raises dopamine and it interacts with opioid receptors, much like for example heroin does. Consequently, it's very easy to abuse, and easier yet to become addicted to.
Withdrawal symptoms from excessive Kratom use typically included and aren't limited to: nauseas, cravings, vomiting, diarrhea, flu-like symptoms, fatigue, insomnia, restlessness, migraines, excessive sweating, muscle pain, intense depression, hallucinations, anxiety, tremors, aggression, restless legs and mood swings.
Luckily, Kratom withdrawal is a lot less severe than with other opioids. The symptoms will generally reach their peak between days 1-3 after cessation. They will linger and should be gone after 5 days. If you are having more intense symptoms than expected, or are having trouble quitting the herb please contact your doctor.
Where to Buy Kratom
Kratom leaves can be bought at many ethnic cuisine markets, usually, Somali and Thai shops stock it if you talk to the owner.
Many websites online sell Kratom in its powdered form, but due to their lack of pharmacy status, we can not link to them. Always use reputable vendors and use responsibly.
Legality of Kratom
Illegal in the UK under the May 2016 psychoactive drugs act.
Illegal in the following US states: Alabama, Arkansas, Indiana, Rhode Island, Vermont and Wisconsin.
It's illegal in Alton, Jerseyville IL, Colombus MS, Lowndes County MS, Monroe County, MS, Ontario City OR, San Diego City CA, Sarasota County FL, Union County MS
Like our work? Share us with your friends.
Analgesic & Relaxant (Pain relief)
Focus & Concentration Enhancing
Kratom Dosage
As always, lower doses (1-3 grams) work best, especially for beginners.
Lower doses are best for focus and energy, whilst higher doses can induce sleep and reduce anxiety.
Kratom Withdrawal Relief
Magnesium
Black seed oil
Nigella Sativa
Cannabis Oil
Masturbation (Anecdotal)
Kratom | Tea Pain |Mitragyna speciosa | Is it safe | Legal | Effects | Interaction | Dosage | Addiction Potential | Katom | Powder | Maeng Da Kratom | Does it get you high | benefits | social | focus | relaxing | nofap | and Alcohol | Red Vein | Sacred | Best | Opiate | Wicked | Life Force | How long does it stay in your system | Drug test